Ending your marriage or domestic partnership through a divorce is not an easy decision. You can make the process simpler, however, by hiring a San Diego divorce attorney. An attorney can help you identify and pursue your goals for divorce in terms of child custody, property division, and more.
The attorneys at Boyd Law can help you with a depth of knowledge and experience guiding clients through divorce cases in California. Request your consultation or call us at (619) 232-1206 to discuss your case with a San Diego divorce lawyer at Boyd Law today.
San Diego Divorce Resources
To access any part of the page below, click on any of the following links.
Why Choose Us?
In San Diego County, the Boyd Law divorce attorneys understand this and are dedicated to achieving the most favorable, workable, and satisfactory outcome for you and those you love—one that will allow you to move forward with the least amount of stress, disruption, and uncertainty about your future and that of your family.
At Boyd Law, our San Diego family law attorneys know that any matter affecting your family is not just about the law; it's about real people, with real needs, real problems, and real feelings. Our San Diego divorce attorneys are experts at the law, but we don't stop there; we truly care about the clients we represent, and focus our skills, knowledge, and experience to use California law to meet your needs, identify solutions to the problems you're facing, and respect your feelings and desires when seeking an outcome that will work for you.
We know how to negotiate difficult disputes effectively, with a minimum of rancor, and are often able to find creative solutions to the most contentious problems with your divorce, including child custody and child support issues. We understand that your divorce and family law matters may be emotionally draining, and we are here to support you in every possible way.
We have access to some of the nation's most highly respected experts on a variety of matters pertaining to divorce and family law: psychologists, social workers, CPAs, forensic accountants, financial advisors, educators, and others whom we can call upon to provide analysis and testimony in your behalf.
Our divorce lawyers in San Diego County, CA, create space for you, allowing you to lean on their skill and expertise, enabling you to step back from the emotional challenges you face. Whether you are going through a contested or uncontested divorce, we will work with you to find effective legal solutions to the matter at hand with an emphasis on preserving positive family relationships to the greatest extent possible.
About Our San Diego Divorce Attorneys
We are Certified Family Law Specialists (CFLS). Attorney Karie Boyd is a board-certified specialist in family law, meaning she has extra training and education in divorce law.
Our lawyers are highly experienced. We are a large law firm that is fully prepared to address the diverse issues that you are facing during your divorce case.
We can find an efficient and effective resolution for any obstacle that you encounter. We will work closely with you through each phase of your divorce.
What Are the Benefits of Working With a San Diego Divorce Lawyer?
A divorce case is a complicated legal matter with many elements that you may not be familiar with unless you are an attorney, like property division, child custody, and child support. Hiring a divorce lawyer to represent you can help you understand what to expect from the legal process, as well as how to navigate it to your greatest advantage. You are most likely going through a difficult enough time coping with the end of your marriage and the idea of building a new life; you do not also have to shoulder the legal burden of a complex divorce process.
Working with a Certified Family Law Specialist offers even further benefits than a typical attorney. A CFLS in California has a higher level of experience in the field and a deeper understanding of the complexities of divorce law. This can help you find unique and creative solutions to your problems. Your San Diego family law attorney can help you conquer obstacles and provide greater peace of mind and confidence during this tough time. You won't have to worry about any of the legal elements of your case with a specialist by your side.
Testimonials
"Karie Boyd and her team are some of the most amazing, caring lawyers out there. I have known her and her colleagues both as a colleague and as a client. I can't say enough good things. Honest, reliable, professional, and get the job done. They helped me with two separate issues and did it fast and in a very cost-effective way. Thank you, Boyd Law!" – San Diego Client
"We highly recommend Ms. Karie Boyd – and Boyd Law Firm… they are truly professional and "results' oriented"… Our publishing company is at ease knowing they have our back!" – Baja Traveler
Types of Divorce Matters We Handle in San Diego
If you live in San Diego or the surrounding area and are contemplating a divorce, you will want to find personalized solutions to your own unique family situation. At Boyd Law San Diego, we are committed to achieving the outcome that will best serve your family law issues and needs when your marriage is no longer viable.
Going through a divorce can be among the most stressful and emotionally demanding processes you'll experience in a lifetime, but having the right San Diego divorce attorney can relieve much of that stress. At our firm, our divorce lawyers are trusted and reputable advocates for individuals and families who are dealing with the various issues connected to the dissolution of marriage. Your legal representative should be equipped to navigate California's complicated divorce laws. Find out how we can help you. We provide specialized divorce services for couples in many different situations. Our legal services include:
Divorce

Legal separation

Annulment

Same-sex divorces

Child custody

,

child sup

p

ort,

and

visit

a

tion

Property division

Asset protection

High-asset divorce cases

Celebrity divorces

Military divorce

Prenuptial/postnuptial agreements

Alimony/spousal support

Court order modification requests
At Boyd Law, we understand how the courts work and how to navigate related laws to achieve desirable results for each client. Our lawyers are committed to achieving the outcome that best suits your needs by providing individualized solutions that will help your family get through a stressful and emotionally demanding time. Our San Diego divorce lawyers will do everything we can to lessen the emotional toll that a divorce has on you and your loved ones.
How Does California Divide Property in a Divorce?
California is unique in that it uses a community property law to determine the division of marital assets in a divorce case. In the eyes of California law, a marriage between two people forms its own community. Any assets, property, income, or debt acquired while the community is intact – while the couple is married – is community property. In a divorce case, California law holds that both parties have equal parts' ownership of this property. Therefore, the courts will divide it in half if a divorce case goes to trial.
All couples have the opportunity to create their own property division arrangements – as well as determine the other aspects of a divorce – together before the matter goes before a judge. If you cannot reach a property division settlement with your spouse, you will most likely have to split all of your marital assets and debts 50/50 with your spouse, regardless of who brought the property into the marriage. It may be possible to protect your property, however, with help from an attorney.
What's the Difference Between Divorce and Legal Separation?
Divorce is not the only option for ending a marriage, although it is the most common. You may also wish to consider a legal separation. Legal separation keeps your marriage legally intact; you will still be married to your spouse on paper. However, it separates the community that you formed during your marriage, meaning that your property will be divided and you can share custody of your children.
There are certain benefits that come with legal separation that you may not get with a divorce. If you are receiving benefits through your spouse's employer, for example, legal separation can keep these benefits intact while allowing you and your spouse to lead separate lives. If you do not wish to get divorced for personal or religious reasons, legal separation can also be an ideal solution. Finally, legal separation makes it easier to either reconcile or transition into a divorce in the future.
What Is an Uncontested Divorce?
When both parties agree on everything, from community property division to child custody and child support, the divorce is considered uncontested. While uncontested divorces never see the inside of the courtroom, both sides still require legal representation.
As your divorce attorneys in San Diego, CA, we will take great care to review all details of your divorce with you to make certain you are moving forward in a direction that truly makes sense for you. In many family law cases, people think they have an uncontested divorce process at first. Then they learn about something that was previously overlooked, such as the distribution of debts or retirement accounts, and disputes arise. An uncontested divorce becomes contested.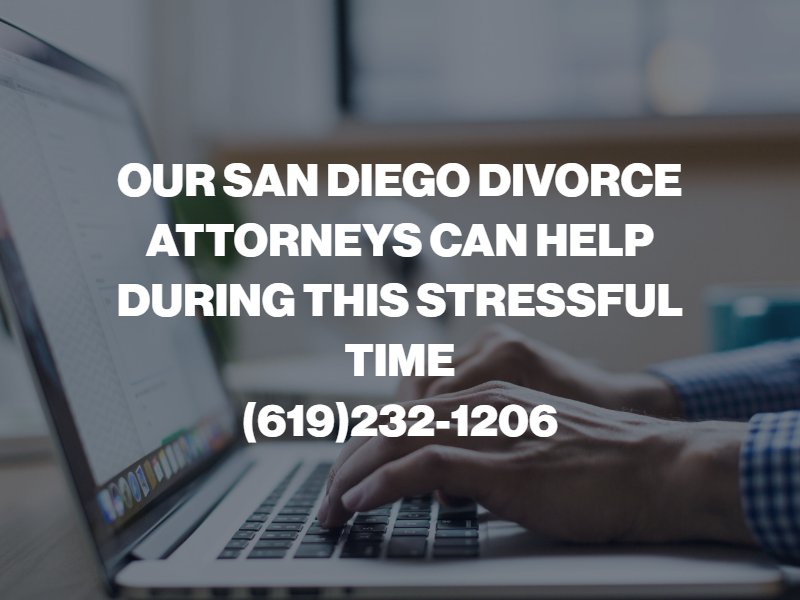 What is a Contested Divorce?
Our San Diego, CA divorce attorneys are comfortable and experienced in the courtroom. We know how to build strategies designed to achieve positive outcomes in front of a judge. However, we also know that resolving a contested divorce in a family law court can be stressful and time-consuming. There are family law attorneys in California who are willing to play off the emotions of the divorcing parties, intentionally exacerbating issues and spurring disputes about complex issues like spousal support or child support.
There are attorneys who will force a family law case to stretch out months more than necessary, rather than following the family code and facilitating a settlement agreement. We never encourage disputes. When they arise naturally, we are prepared to resolve them, but we take great care to present our clients with all available options to ensure that each case is taken in the right direction. We are as adept at resolving contested divorces through settlement agreements as we are at trial.
Divorce Tax Issues
If you are going through a divorce, do not make the mistake of ignoring the tax consequences. When handled properly, the tax implications of a divorce can increase the value of a divorce or marital settlement. However, when handled improperly, they can result in each side walking away with an unfavorable settlement agreement and a larger tax bill.
To maximize your standard of living after divorce, it is in your best interests to have a San Diego divorce attorney on your side who understands how to recognize and manage tax issues in divorce. You can rely on our team of attorneys and professionals at Boyd Law to examine the tax implications of any proposed settlement to make sure you receive a favorable outcome. The tax treatment of various assets in the marital estate can have a tremendous impact on the overall value of a settlement.
We are fully equipped to handle all of your tax-related issues in divorce, including the division of child exemptions and tax credits, alimony, capital gains from long-term investments such as marital property, and whether to file separately or jointly in the year of your divorce.
Divorce Privacy Issues
The inner workings of your family life, how you raise your children, and the condition of your finances are all very personal matters. When divorce proceedings become public for celebrities, executives, business owners, doctors, and others, there is an increased need for diligence in order to maintain their privacy and professional reputation during a divorce. Your San Diego divorce attorney at Boyd Law understands how important it is to respect one's privacy and will protect your personal life from the public eye.
How Long Do Divorces Take in California?
In California, there is a mandatory six-month waiting period after a divorce is filed. The absolute minimum amount of time is six months after the divorce is finalized.  While the minimum is six months, longer cases are entirely possible and the length can vary from one case to the next. 
Generally speaking, an uncontested divorce will move through the divorce process much quicker compared to a contested divorce. If the divorcing parties are able to agree on large issues including child support, child visitation, spousal support, and property division, these parties may be able to avoid going to court if a mutual agreement is reached. 
If two divorcing parties are unable to reach a mutual settlement during mediation or an alternative dispute resolution, the divorce will likely take longer to resolve compared to an uncontested divorce. 

Contact Our San Diego Divorce Attorney Today
If you are considering getting a divorce in San Diego, California, please contact us or call (619) 232-1206 to schedule a consultation with one of our attorneys. We have the extensive resources, legal experts, and services that you need. To find out how we can help you in more detail – contact us today.
Locations We Serve
We serve many locations in San Diego including:
La Mesa | Rancho Peñasquitos | Point Loma | Clairemont | North Park | South Park | Old Town | Balboa Park | Bankers Hill | East Village | National City | | La Jolla | San Ysidro | Normal Heights | Hillcrest | Little Italy | University Heights | Gaslamp Quarter | Mission Hills | Bay Park | Bay Ho | Pacific Beach | Paradise Hills | Mission Valley  | Torrey Pines | Encinitas | Solana Beach | El Cajon
Frequently Asked Questions About Divorce
What Are California's Residency Requirements for Getting Divorced?
California has divorce requirements that stipulate certain requirements be made by spouses pursuing a divorce in the State. Before a divorce can be filed, California Family Code Section 2320 states that each spouse must be a resident of the State of California for at least six months leading up to the filing the divorce. You or your spouse must have also lived a minimum of three months in the county where you are filing for divorce. If you have not yet met the three-month county deadline, you can file in the county where you used to live in California.
What Happens If I Don't Meet California's Residency Requirements in California?
If a person does not satisfy the residency requirements established by the State of California, a spouse must put the divorce on hold and establish residency. Only one person has to establish residence in California to file for divorce. However, courts in the state will not consider a California family law case if neither spouses have residency for the minimum amount of time.
Are There Any Exceptions to California's Residency Requirements for a Divorce?
Yes – there are exceptions to California's residency rules. Same-sex married couples that were married in the state and no longer reside in California and live in a state that will not dissolve a same-sex marriage can file in California to end same-sex marriage. If this applies to your situation, contact a same-sex marriage attorney.
Is There a Waiting Period for Divorces in California?
Yes – in the State of California there is a mandatory waiting period for divorces. Divorces in California will require a six month waiting period after the divorce is filed. In California, all divorces take an absolute minimum of six months. Frequently divorce cases will take more than six months but cannot be completed under six months.
Is California a No-Fault Divorce State?           
Yes, California is a no-fault divorce state. This means that it is not necessary for the spouse who files the Petition for a Dissolution of Marriage to include a fault-based cause for the divorce. It is not a requirement to prove that your spouse cheated on you, for example, or is guilty of domestic violence. Instead, the filing party can simply cite "irreconcilable differences" on the paperwork and achieve a no-fault divorce. In essence, irreconcilable differences mean that a couple cannot get along.