Practice Areas
San Diego Child Visitation Attorney
A divorce can be a great loss to a child accustomed to living with two parents. It is important for children, in most situations, to know and have an ongoing relationship with both parents, assuming that both are capable of providing a safe environment for the children during the time when they are together. In California, the law favors allowing "frequent and continuing contact" between the non-custodial parent and the children of a divorced or unmarried couple. The exception would be if allowing visitation with the non-custodial parent would be harmful in some way, or "detrimental to the best interest of the child." In the absence of any compelling reason to deny it, the non-custodial parent is entitled to "reasonable visitation."  Contact an experienced San Diego-based child visitation lawyer with any legal questions or concerns.
San Diego Child VIsitation Resources:
Child Custody and Visitation in California
Ideally, the parents will be able to agree on an appropriate visitation schedule themselves. If not, the court will assume that responsibility. If the parents can't agree, what constitutes "reasonable visitation" is left to the court's discretion and is meant to be decided according to what is in the child's best interests. A determination of what is reasonable will usually include splitting major holidays between the two parents. If you and your ex- or soon-to-be-ex spouse or partner haven't managed to reach an agreement, your child visitation lawyer in San Diego can help negotiate a fair arrangement, in order to avoid unnecessary court intervention.
A court will take into consideration the child's age, special needs, and maturity, along with how much travel is required and, in an older child, the child's own preference.
When faced with a dispute over appropriate visitation time, the Boyd Law Firm San Diego family law attorneys can be an invaluable resource to help negotiate a solution outside of court or make a strong argument to a judge.
Older Children and Visitation
As children get older, they may have strong opinions about whether or not they wish to visit the non-custodial parent. With younger children, it is expected that the custodial parent will enforce visitation as ordered by the court; failing to do so could result in a contempt of court order. This is not necessarily so with a teenager who has other plans and refuses to honor the visitation schedule. The courts generally recognize that after a child reaches a certain age, it may be beyond the ability of the custodial parent to force visitation when faced with a recalcitrant teen.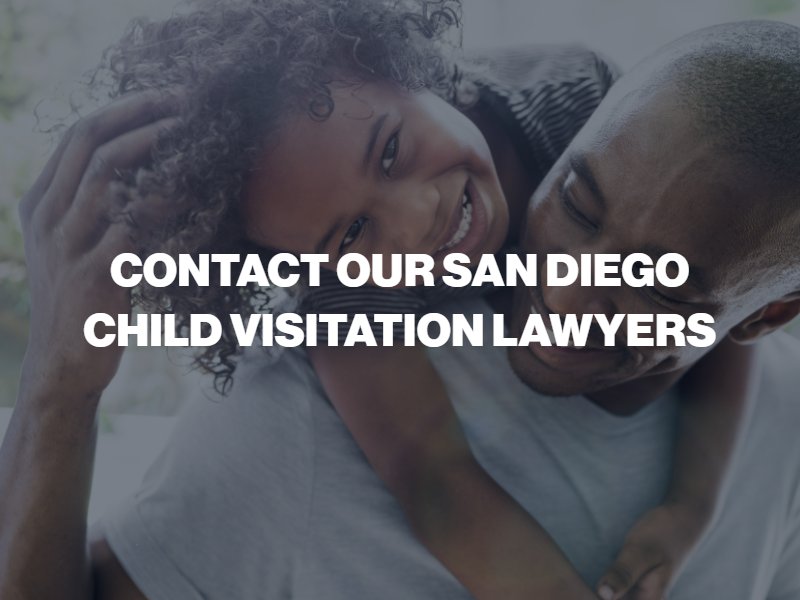 Child Support Payments vs. Child Visitation Rights
Although there is an interplay between the amount of time each parent spends with the children and the amount of the support award, it is very important to understand that being current on child support payments is not a requirement for continued visitation rights. Child support is an entirely separate matter. The only reason that visitation will be suspended is if it can be shown that it is in some way detrimental to the child. Timely payments are a financial matter between the custodial and non-custodial parent and have nothing to do with visitation.
Nor can visitation be discontinued because of the custodial parent's disapproval of the non-custodial parent's religious beliefs, sexual preference, or lifestyle (unless some element of the lifestyle, for example, heavy illegal drug use, can be shown to actually be detrimental to the child).
Decision-Making During Visitation Periods
Even during visitation, a parent with legal child custody retains the right to make important decisions about the child's upbringing, not the parent the child is visiting, except when the two share joint legal custody.
Changing Visitation Arrangements
Life goes on after a divorce, and people's situations seldom remain the same for long: a new job, a new marriage, or the desire to move to be near family are just a few of the changes that may occur in the life of a custodial parent, requiring altered visitation arrangements; likewise, the non-custodial parent may be affected by changing circumstances that interfere with the original visitation schedule.
When one parent wants to move and will no longer be able to adhere to the ordered visitation schedule, if the parents can't agree on other arrangements, it will be necessary to involve the court once more. These situations can be extremely contentious and their outcome will often have a significant effect on the parties. Your attorney will help to negotiate an agreement that works for all concerned; otherwise, the court will decide, and the result may not be the one you want. Having the Boyd Law Firm on your side can be extremely beneficial in coming to an agreement outside of court, or in arguing for your preferred solution before a judge that the change you're requesting is in the children's best interest.
Experienced Legal Representation for Visitation Disputes
Visitation is often the most contentious issue in a divorce or legal separation. Don't face it alone. The experienced, knowledgeable, and compassionate attorneys at Boyd Law in San Diego understand the difficulties you are facing and can assist you in making a case for a solution that works for you and your family. Don't take the battle on alone. Call Boyd Law and arrange an appointment for a free consultation to learn how we can help.