Practice Areas
San Diego Legal Separation Lawyers
For some couples, there may be situations in which a legal separation is preferable to a divorce. Legal separation is sometimes a temporary solution for couples uncertain whether or not a divorce is what they really want. It allows them to gain some space and test the waters before making the dissolution of the marriage permanent. If you are considering a legal separation, contact a San Diego legal separation attorney at Boyd Law today.
For others, for whom divorce is not a possibility because of religious or cultural reasons, a legal separation may be a permanent situation to a failed marriage. Although legal separation is handled much like a divorce by the courts, after agreements have been made, the couple is still legally married. Legal separation can be viewed as a trial period prior to a divorce or a substitute for a divorce, albeit one that precludes remarriage.
Legal separation is a legally binding agreement that outlines the rights and responsibilities of the spouses during the time that they are living apart from each other. It involves many elements of a divorce from the division of property, the family home, custody of children, asset protection, visitation rights, and spousal support. The legal separation must be agreed upon by both spouses.
San Diego Legal Separation Attorney Resources
Why Choose Boyd Law?
Our lead attorney and CEO, Attorney Karie Boyd, is a California Certified Family Law Specialist. This means she has received additional training and has been certified as an expert in family law by the State Board.
We are a well-established law firm that is fully prepared to address the diverse issues our clients face during legal separations today. We have state-of-the-art resources, highly experienced lawyers, and trial capabilities we will put toward resolving your case.
You can trust that your lawyer at Boyd Law will provide exceptional advocacy and customer service throughout your legal separation case. We have hundreds of happy clients who achieved life-changing case results with help from our legal team.
Do I Need an Attorney to Legally Separate in California?
Hiring a legal separation attorney is the best way to successfully navigate California's laws during your case. A San Diego divorce lawyer at Boyd Law will have a wide knowledge base and experience in family law to draw upon for your benefit. If your case involves complexities such as child custody, high-value assets, a spouse who has moved out of state or domestic violence, it is even more important to hire a lawyer to look out for your best interests during the legal process.
Benefits of Legal Separation
The main difference between legal separation and divorce is that after the terms have been settled, divorce is final and cannot be undone. A legal separation, on the other hand, can be reversed. Legal separation may help couples reconcile their differences, or simply help them decide if a divorce is the right course of action to take.
Legal separation can be a great in-between step if you and your spouse are still trying to work things out and or decide what the future will look like for your family. You can live your own life independently and keep your property separate from your spouse before you make any final decisions about ending your marriage.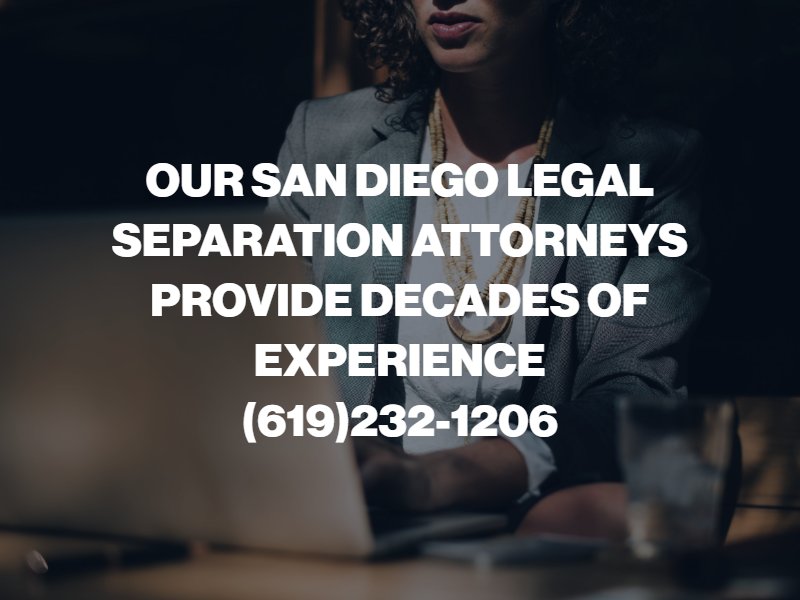 Why Legally Separate Instead of Divorce
Before you and your spouse file for divorce, consider the alternative of legal separation. Separation could be the ideal solution for you and your family based on the circumstances. Everyone has their own reasons for choosing legal separation over divorce. Some are looking for a quick fix to a situation that they can no longer cope with and do not wish to wait for divorce. Others amicably separate but choose to remain married on paper for financial reasons.
There are many reasons to choose legal separation over divorce, including:
Leaving the option of reconciliation open
Maintaining a marriage for religious, personal or cultural reasons
Providing a chance for couples to experience what their divorce would be like
Separating the couple's finances, assets and debts
Continuing receiving spouse's insurance benefits
Retaining military benefits and/or tax benefits
Protecting certain social security benefits
Legal separation may also be more appealing to some couples because it takes effect immediately after the agreement is filed. A divorce may take six months or longer in California, and so many couples opt for the quickest solution. No matter what, if both parties are satisfied with the terms of the agreement and would like to go through with a divorce after legal separation, they can do so.
How to Legally Separate in California
If you want to legally separate in California, start by setting up separate residences. One of you should move out of the family home to establish your date of separation. From this date onward, all income and assets you acquire will be classified as your own separate property rather than marital property that you will have to split with your spouse. Next, fill out the correct court forms to make your legal separation official, checking the boxes that say, "legal separation." You will need to pay a filing fee unless you're eligible for a fee waiver.
Your spouse will be served with the legal separation forms and have the chance to respond to your petition. If you have an uncontested separation, meaning you both agree on the proposed terms of the split, a judge will sign off on the paperwork and the legal separation will be effective immediately. If you and your spouse need to work through issues such as property division and child custody, your legal separation case may require mediation or a trial in San Diego County. You may need representation from an attorney for a contested case.
If you decide you want a divorce after the court enters the judgment confirming legal separation, you will need to start a new case. However, the legal process for a dissolution of marriage will be easier thanks to the fact that you legally separated first. If you and your spouse reconcile, you can terminate your legal separation by submitting a request to the court.
Assistance in Negotiating a Legal Separation
There are many considerations to be taken when it comes to deciding whether or not to end a marriage or a domestic partnership. It is extremely important to consult an experienced and knowledgeable attorney before proceeding with a legal separation or a divorce. If you are not sure if getting a divorce is the right course of action for you, legal separation is an alternative. The well-experienced family law attorneys at San Diego's Boyd Law Firm are available to help you in making this critical decision.
Contact Us to Discuss Your With a San Diego Legal Separation Lawyer
If you are considering a legal separation, contact the Boyd Law Offices to arrange a time for a consultation with one of our skilled attorneys to obtain information and assistance in protecting your rights. We will help you draft a separation agreement with a property division and, when appropriate, spousal support, that meets your needs and allows you to maintain your current standard of living after you separate, and will work with you to negotiate a custody, support, and visitation agreement if you have children.
Our lawyers are experts in all areas of family law and have helped many couples facing marital difficulties to find the solution that best suits their circumstances. There is never a charge or obligation for your initial consultation. Contact us today.