Practice Areas
San Diego Property Settlement Lawyer
When a couple decides to divorce in California, one of the main tasks is to determine how the property of the marriage will be split between the divorcing spouses. Depending upon the nature and amount of the assets and the ability of the couple to cooperate to achieve a division of property that is fair to both parties, this can be either relatively straightforward or extremely complicated but the San Diego property settlement lawyers at Boyd Law can help, contact us today for a free consultation.
San Diego Property Settlement Resources
California Community Property Law
California is a community property state, which means all property acquired from the date of the marriage until its termination is owned equally by both spouses. In a divorce, the assets are divided in half, with an equal share going to each. Arriving at a fair and equitable California property settlement can be challenging and usually requires the assistance of an experienced San Diego family law attorney who can call upon financial professionals to help place a value on the assets. It should begin with a thorough inventory of all assets, which may include, among others:
Real estate
Bank accounts
Businesses owned by the family
Securities and other investments
Retirement accounts
Out-of-state property
Assets held outside of the country
Vehicles
Boats
Art, jewelry, and other valuables
It will be necessary to determine which assets are joint and which, if any, are separate, owned exclusively by one partner, such as inheritances or personal gifts, as these are generally excluded from the property division. It is not always clear if a particular asset is separately owned or community property. Your attorney will understand the application of California law in these cases and will advise you. In many cases it is not desirable, or even possible, to divide a particular asset down the middle; however, each party should receive assets totaling the same amount.
Marital Debt in a California Property Settlement
In addition to inventorying all of your marital assets, you will need to itemize your debts. Like property, debts are in most cases to be divided equally. They can also be used to balance an unequal distribution of assets. In cases of excessive amounts of debt, filing bankruptcy as a couple prior to the divorce may be advisable to simplify the property settlement. California, however, unlike many states, does not allow doubling of the assets exempt from bankruptcy, so you should discuss the matter with your attorney if your joint debt has become unmanageable.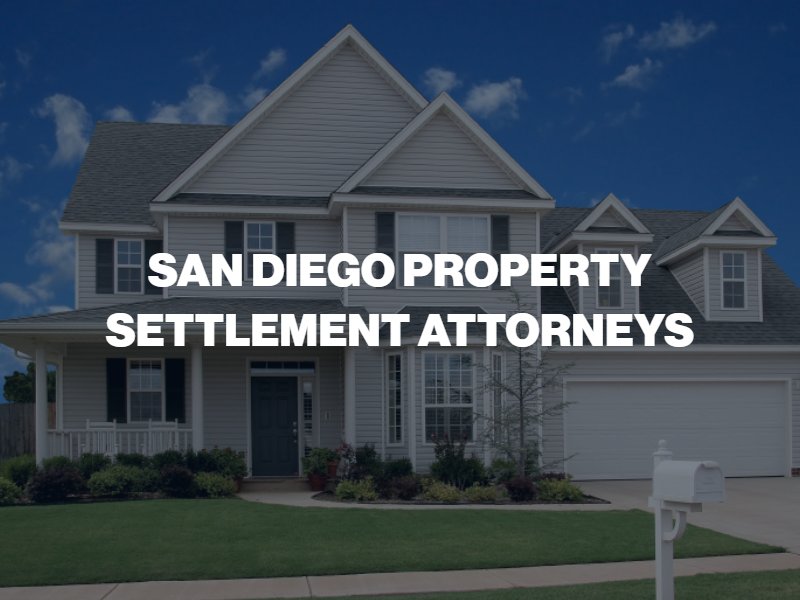 The Marital Settlement Agreement
Ideally, you and your soon-to-be-ex-spouse, with the help of your lawyer, will be able to arrive at a property settlement agreement that works for both of you. Your attorney will assist you in negotiating a fair division and will draft a contract called a Marital Settlement Agreement, which you both will sign, to be included in your final divorce order. This is important in the event that one or the other spouse fails to honor the agreement. Having it included in the court order will make it enforceable if later disagreements arise.
Complex and High Asset Property Settlements
In California, many wealthy couples have complex assets and require professional analysis by CPAs, forensic accountants, financial advisors, and other knowledgeable and credentialed professionals. Valuation of complex assets can be challenging, and you must have an attorney with relationships with appropriate financial experts to ensure that all assets are disclosed, properly classified, and accurately valued for division.
What Happens if We Have Multiple Properties Within the State of California, in Other States, or in Other Countries?           
Under California law, any property that is acquired by the couple during marriage is deemed community property, with only some exceptions. This law is not limited only to property that exists within the borders of the State of California. It applies to real property acquired by the couple anywhere in the world. Thus, all of the properties that you or your partner own, regardless of the location, will be involved in your divorce case. 
If property owned outside of California is part of the community, it will be divided in half with the rest of your marital property. Things can get complicated, however, if a spouse purchased real property while living somewhere else and if this property would have been considered community property had he or she been living in California at the time. In this situation, the property is referred to as quasi-community property. This type of property is considered part of the community in property distribution.
When determining how to divide multiple properties within or outside of California, a judge will try to keep things as even as possible. California law provides that a judge must award a property to one spouse, then offset the value of this property by awarding property of equal value to the other spouse. If this is not possible, the parties may be required to execute conveyances, as necessary, or a judge will award the party who is not given the property money of the same value. 
In a family law matter, the judge only has jurisdiction over real property that is located within the state. This means a California judge cannot make orders that directly affect real property in another state or country. However, a California judge does have jurisdiction over the parties involved in the proceeding. Therefore, a judge can require one or both parties to take certain actions concerning an out-of-state property. If the party fails to take the required action, he or she risks being held in contempt of court.
Contested Property Division
Fair property division requires full disclosure of all assets. It is not unusual in a contentious divorce for one spouse to attempt to conceal assets, or a spouse may try to exclude certain property from the settlement by claiming it as separate property. California law places the burden of proof on the party claiming separate property if the property was acquired during the course of the marriage. If you have property that you feel should be excluded, or if your spouse is wrongfully attempting to exclude property from your divorce settlement, your attorney will work with you to protect your assets and property interests.
How Can a San Diego Property Settlement Attorney Help?
Property division may be the most complicated part of your divorce or legal separation case in San Diego. Working with a qualified attorney from the very beginning can help you come up with creative property division solutions that keep you out of court. This can save you time, stress, and money. Your lawyer can also take care of complicated legal issues and work through the laws pertaining to your case while you focus on your family and future. 
A property settlement attorney in San Diego can benefit you with many personalized legal services, including:
Giving you advice and counsel that you can trust about the legal process and the valuation of your real property or business.

Examining the valuation of your stocks, investments, retirement accounts, and other complicated assets.

Hiring forensic accountants to search for any assets or foreign accounts that your ex-spouse may be hiding.

Anticipating the tax implications that the division or sale of your property connected to a divorce will have.

Working with experts, consultants, and outside counsel to access the best tools available to resolve challenges that arise in your case.

Protecting your best interests every step of the way, during mediation and settlement negotiations or a trial before a judge in San Diego.
California's property division laws can be difficult to navigate. If you wish to protect your hard-earned assets and property during your California divorce, hire a property division attorney in San Diego to represent you. The lawyers at Boyd Law can help you through the stages of property division, calculating your debts and accurately evaluating your property so that you have a better idea of where you stand. Then, your lawyer will come up with a tailored legal strategy to achieve your goals.
Contact a San Diego Property Settlement Lawyer
In the San Diego area, when you need a knowledgeable and committed attorney to represent your interest in dividing your marital property in a divorce, the Boyd Law Firm will provide you with the skilled representation you need to achieve a fair outcome that will allow you to embark comfortably on a new life post-divorce. We have a superior track record of helping our clients reach a property settlement that is fair and satisfactory, without having to leave the division to the court. In the rare cases when this is not possible, we will litigate on your behalf, presenting a thoroughly documented and persuasive case for your preferred property division. Contact Boyd Law today for a free consultation.